The Home Theater Sound System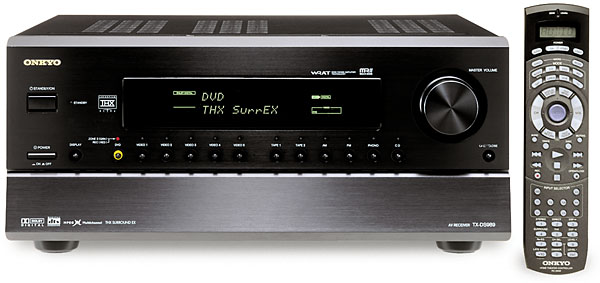 I decided on the Onkyo 989 THX ultra certified Surround EX receiver. This supports the latest 7 channel THX EX DVD's and new DTS 6.1 channel discrete DVD's. It has very flexible input selection and switching and the video section has the bandwidth (>40Mhz) for HDTV switching if you want to do that. Onkyo has delivered on the promise of inexpensive software upgrades for new sound processing like Dolby pro logic II. The upgrade can be done by the user using a home computer connection and downloading the updates to the receiver.

The upgrade kit consists of a CD, a serial cable and manual updates (on the CD). The installation from a PC takes about 50 minutes with quite a few turn on/turn off sequences during the upgrade that have to be done manually between steps. It all completed ok and I'm enjoying the new Pro Logic II Music mode. Very impressive sound. Hats off to Onkyo delivering on there promise of upgrades for this unit. Price of the upgrade was a very reasonable $50.

Oh by the way it sounds great, quiet and noise free.
My speakers include Allison One's for the main L/R speakers that I had from an earlier stereo installation. I bought these speakers when I was just out of college in 1977. The original receipt and specifications are shown below.
Just recently in January of 2002 the company which had been out of business for 11 years restarted with new Allison 1's being offered using the same type of drivers and design. The company is headed by Roy Allison in the engineering department. You can still get replacement drivers for the original speakers. The only main thing that has changed is the price. I paid $720 in 1977 for a pair. Now they are $6000 a pair. Mine still sound wonderful to me. They have a quality of smooth presentation of voices that is unsurpassed. In a surround sound environment they contribute to the spaciousness of the presentation.
The new Allison: One:
My Allison's with the grill removed:
My center channel, sides, rears and sub are all by Sound Dynamics. The center is the RTS-C2, The surrounds are the RTS-RS1's and the sub is the RTS-1200. Sound Dynamics is the poor stepchild of Mirage and Energy speakers. They are the one of the leading Canadian manufacturers of speakers. They sound great and are relatively inexpensive.